START INTO OUR ANNIVERSARY YEAR: ESTA TURNS 50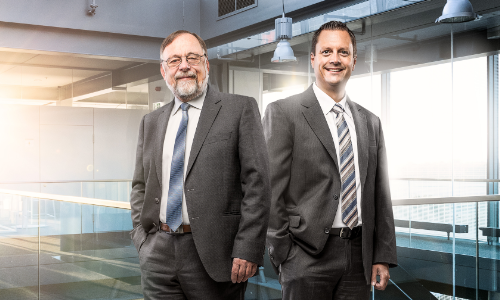 In its 50-year history, ESTA Apparatebau GmbH & Co. KG in Senden, Bavaria, has developed into a leading manufacturer of extraction and filter systems for industry and commerce. Founded in 1972 by Günter Kulitz as a one-man business, the company now has 180 motivated employees at its main site in Senden and operates worldwide with a sales network consisting of 25 partners. Nearly 500,000 extraction systems have been delivered to date, from mobile dust extractors to large filter systems with capacities of more than 100,000 cubic metres per hour.

Investment in growth
Our anniversary year is set to be one of the most successful in the company's history: "Our order books are nicely filled, and our customers in mechanical and plant engineering are also on a course for growth. For 2022, we expect another significant increase in sales," says ESTA's managing director Philipp Raunitschke, who is looking forward into the new financial year with optimism. Together with Dr Peter Kulitz, managing partner, he has been running the family business since 2016.

True to the company slogan "The whole world of extraction technology", ESTA has always offered a wide range of products and has the right solution ready for almost every application that produces dust, welding fumes or chips. The company is sticking to this strategy, confirms Raunitschke, and explains: "Despite the ongoing supply chain problems, we have placed our focus on accelerating delivery times. The constant expansion of our supplier network and the development of alternative delivery routes are decisive parameters in this respect."
In addition, investments are to be made in the location: "In order to be able to fulfil customer orders even faster, we are currently planning a considerable expansion of our warehouse and logistics space in Senden", Raunitschke continues.

Trade fair comeback & appreciation for employees
For the first time since the outbreak of the corona pandemic, ESTA is exhibiting at a trade fair again. The extraction technology specialist will be celebrating its comeback at EuroBLECH from 25 to 28 October 2022 in Hanover. "We would like to take the opportunity to celebrate our 50th anniversary with our customers, dealers and partners - situation permitting - and thank them for their trust in us and their cooperation," says Raunitschke.
The company's employees can also look forward to one or two anniversary surprises. The managing director does not want to give too much away, however: "Nothing works without our employees. We are happy to have so many committed people working with us. That's why we intend to show them our gratitude and appreciation through a wide variety of activities," reveals Raunitschke.
With an above-average training quota of 20 %, the family business also places a strong focus on young talent and thus makes an important contribution to securing a skilled workforce.

How ESTA came into being "by chance more than anything" 50 years ago, as well as all subsequent milestones in the company's history, can be found on the History page.

Interesting links: