TRADE SHOW SEASON 2017 FINISHED WITH GREAT SUCCESS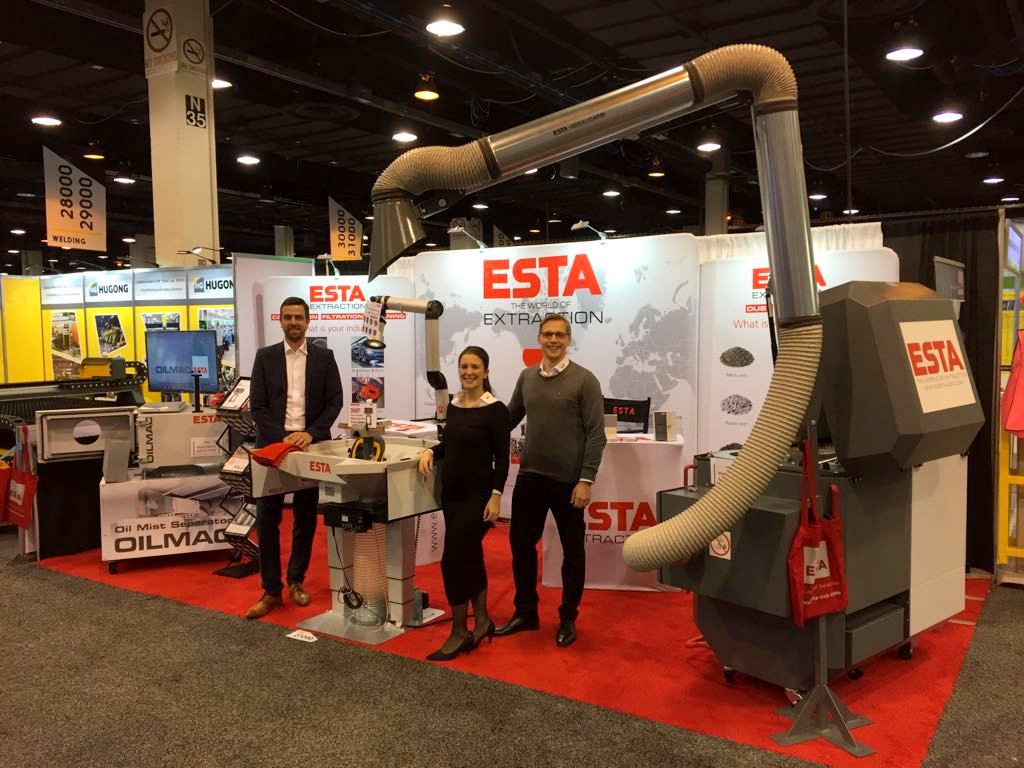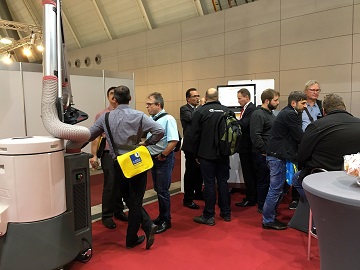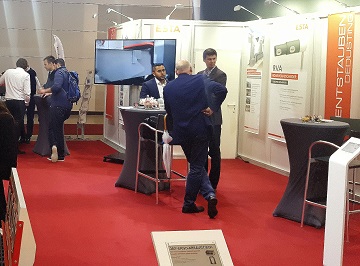 At the beginning of November, ESTA was present at two trade fairs. At the BLECHEXPO/SCHWEISSTEC – International Trade Fair for Sheet Metal Working– in Stuttgart, the topic of Industrie 4.0 was all the rage. ESTA presented its DUSTOMAT 4 mobile dust extractor and 4.0 version of its filter tower demonstrating to the trade public its versatility, for example remote maintenance function. The ESTA Airmonitor - as an integral component of the ESTA 4.0 concept - impressed visitors in the live test being used to monitor the air around the trade fair stand. Alexander Schwarz, Sales field manage at ESTA knows: "Schweisstec has become a sort of personal favourite for us. Once again the atmosphere was very good and the response to our new products great."
ESTA also presented two new capturing systems for dust and fumes: This newly-developed patented hood for extraction arms captures up to 30 % more dust- and smoke filled air than standard hoods in the market. With its 360-degree Ergo extraction table, ESTA is launching an ergonomic work station for thermal and mechanical separating procedures. A total of 1,336 exhibitors from 35 countries presented their product range to over 39,280 trade visitors from more than 116 nations at the Schweisstec/Blechexpo.
FABTECH attracted 50,000 trade visitors
Around 7,000 km from Stuttgart as the crow flies, the metalworking cognoscenti met in Chicago. FARBTECH is North America's largest trade fair for the metalworking industry and welcomes around 1,700 exhibitors and 50,000 visitors from over 120 countries over three days. This year, ESTA presented the OILMAC oil mist separator series as well as the mobile DUSTOMAT 4 dust extractor. Visitors also showed particular interest in the new 360-degree ergonomic extraction table.
Jessica Kulitz, CEO at ESTA Extraction USA L.P., summed it all up: "The response from visitors and customers to our range of products and services was extremely positive. For good reason, FABTECH is one of the most important trade fairs in our industry" The fair takes place every two years alternately in Chicago and Las Vegas.
The ESTA trade fair season ended with great success for 2017 with the BLECHEXPO/SCHWEISSTEC and FABTECH. Some dates for 2018 have already been confirmed. You can find them on our Trade fair and Events page.
Interesting Links:
FILTOWER HALL VENTILATION SYSTEM
DUSTOMAT 4 MOBILE DUST EXTRACTOR