VACUMAT
MOBILE ODOUR FILTER SYSTEM WITH ACTIVATED CARBON FILTER FOR FILTERING ODOURS AND HARMFUL GASEOUS SUBSTANCES.
Compact unit for filtering odours and gaseous hazardous materials.
The VACUMAT carbon filter effectively removes unpleasant odours which arise during the processing of workpieces and materials.
The odours are captured by an extraction arm, hood or pipeline directly at their place of origin before being directed into the inside of the devices. An effective 2-stage filtration as well as an overall compact construction makes VACUMAT a tried-and-tested assistance in increasing productivity in your production site.
Application VACUMAT
To improve room air quality by reducing or removing odours and gases

For absorption of gaseous pollutants

For single- and multi-station extraction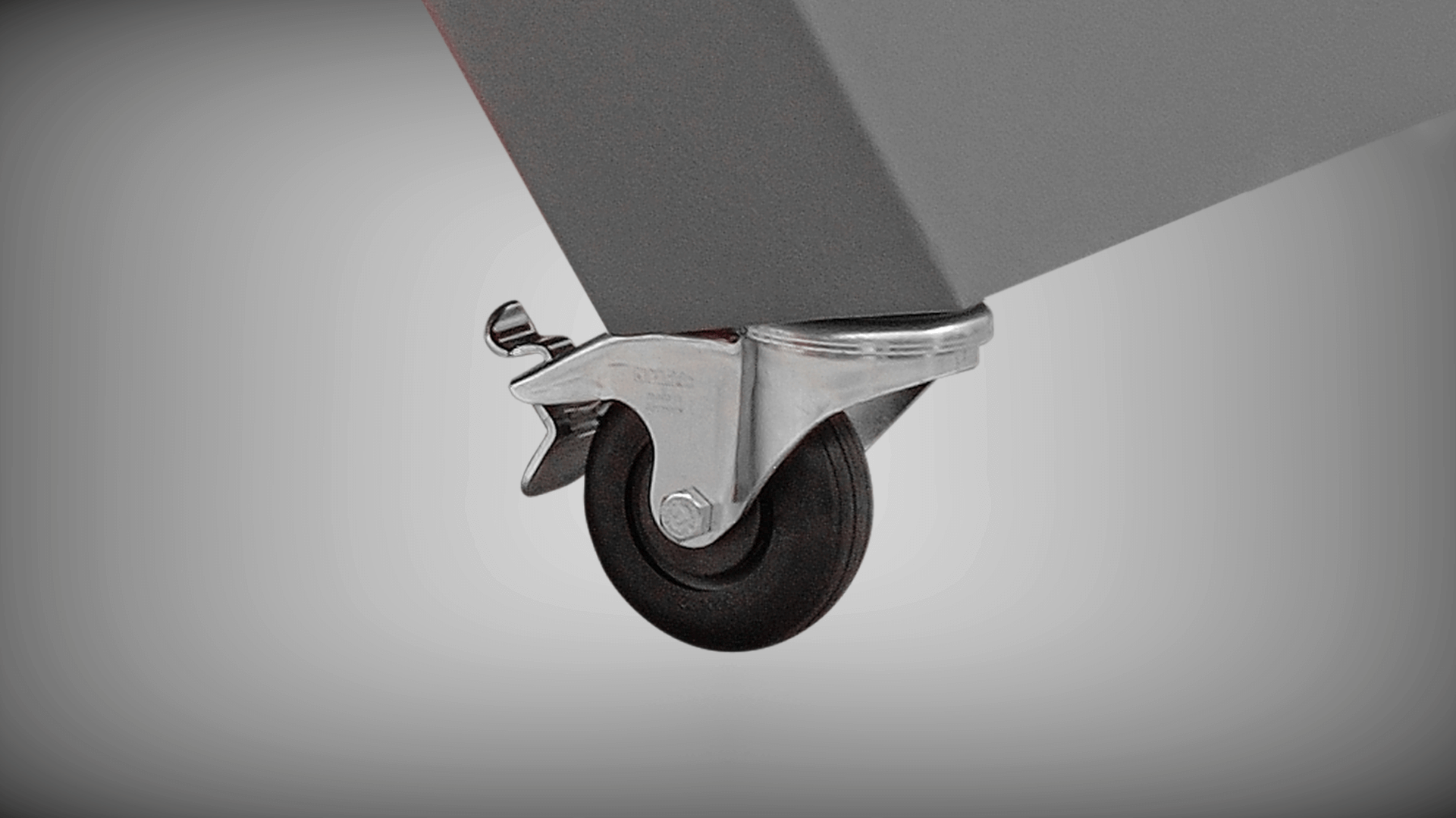 Mobile set-up
Easy and flexible to use makes it ideal for frequently-changing use locations.
Powerful 2-step filter system

Activated carbon fibre offers preventative fire protection device for reducing fire risk

Low operating noise

Low operating costs

Simple filter replacement
Main filter with activated carbon granule for effective odour filtration

Effective prefilter system for separating coarse particles for long main filter service lives

Operating hour meter for monitoring the filter life

For connecting to extraction arm, hood or pipeline

Mobile and space-saving construction

Also available in ATEX version on request
VACUMAT
1000
2200
Max. air volume flow
m³/h
1,010
2,250
Intake diameter
mm
150
200
Max. negative pressure
Pa
1.250
2.550
Drive power
V
400
400
Motor
kW
1.1
2.2
Weight, activated carbon filter
kg
25
25
Dimensions (L/B/H)
mm
1,050 x 800 x 1,330
1,050 x 800 x 1,330
Weight
kg
215
218
Sound emission
dB(A)
62
71
| VACUMAT | 1000 | 2200 |
| --- | --- | --- |
| Standard design | 07100 | 07220 |
WE ARE HAPPY TO PROVIDE A PERSONAL CONSULTATION
We can adapt our exhaust installations to your needs. Tailor-made, modular and individual. Ask us!
Eliminate odours and gases with activated carbon filters
How an activated carbon filter works
An activated carbon filter uses carbon that has been treated with oxygen. Millions of pores are opened up between the carbon atoms. The resulting porous carbon can absorb odour and gaseous substances and improve the air quality of a room. In an industrial setting, unpleasant smells and gases arising from various manufacturing processes are absorbed by an air filter system equipped with this type of filter media.
ESTA VACUMAT filter system for fresh air
The VACUMAT odour filter system is ideal for the extraction of gaseous odour and pollutants. It can be employed for single and multi-station extraction. The odours can be captured by means of an extraction arm, hood or pipeline directly at source before being led to the inside of the filter system. The odour filter features a robust and powerful two-step filter system. Its pre-filter, used to protect the carbon filter, ensures that the main filter has a long service life. The low-cost and easy maintenance activated carbon filters can be effortlessly replaced when needed, and a handy built-in operating hour meter monitors filter life. The VACUMAT odour filter system has an extremely compact construction, making it perfect when space is an issue, and operates with low-noise levels. It can be positioned right up close to workstations without interfering with any production processes. It is easy and flexible to use. Mounted on rollers, it is ideal for use in frequently-changing locations. Two models, VACUMAT 1000 and VACUMAT 2000, are available to suit the needs of client applications. For explosion-risk areas, an ATEX compliant version is recommended.
Proven technology from a trusted partner
Carbon filtering removes potentially harmful and unpleasant pollutants from the working environment. Manufacturing companies can benefit from the use of an air filter to banish impurities from workstations and create a safer working setting for their workforce. The expert workmanship and dependability of our company means that businesses and their equipment are in very capable hands.