Oil mist separators
For the extraction of aerosols, oil mist from cooling lubricants
LOCAL CAPTURE AND EFFECTIVE FILTRATION
Oil mist separators are filter systems for extraction of oil mist and aerosols from the ambient air. For cutting and forming production processes in the metalworking industry, vapour, mist and fumes arise through the use of coolant lubricants. This arises firstly due to mechanical effects - through the vaporisation of cooling lubricant in quick-rotating tools (for example, when grinding or turning workpieces), and secondly through back condensation of vaporised cooling lubricants on hot surfaces. Warm workpieces stored in the open also pollute the ambient air with emissions. In theory, all surfaces coated with cooling lubricants (or contaminated work clothing, oil rags or floors) are to be seen as a source of emission. The warmer these surfaces, the more they contaminate the surrounding air. This increases the risk for employees in the immediate environment.
PRODUCT OVERVIEW
For effective direct extraction of oil and emulsion mists and minimal lubricating musts and fumes, the OILMAC series is installed directly on the processing machine.
As an alternative or supplement to direct extraction, the free-standing Plug & Play hall ventilation system FILTOWER is suitable. It captures dust, fumes etc without pipelines.
Powerful oil mist separators for extraction of vapours, aerosols, and mist particles.
Productdetails
Plug & Play filter towers for the capture and filtration of dust, fumes and oil mist for clean air in the machine hall.
Productdetails
The cooling lubricant aerosols, fumes and vapours are absorbed by operators via their respiratory tract, digestive tract or via the skin. This can lead to a range of potential damage to the human body:
Irritation such as skin irritations, respiratory tract irritation
Changes to organs
Damage to the respiratory tract
Mutagenic effects
Carcinogenic reactions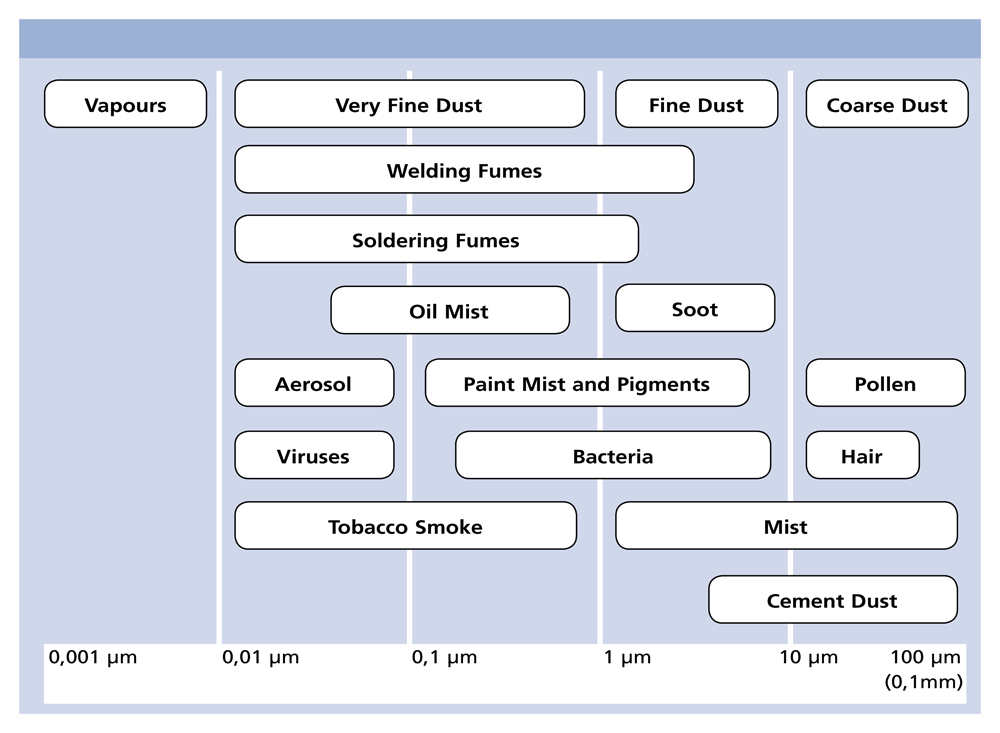 MECHANICAL FILTRATION
The OILMAC oil mist separator developed by ESTA works with a mechanical filtration unit. A 3-stage filter system, comprising pre-separator, main separator and follow-up filter is used. This achieves a filtration efficiency of 99.95 %. Thus the safety of workers and the processing machine itself are guaranteed.
The OILMAC oil separator are used in grinding machines, processing centres, turning machines, milling machines, cooling systems, honing machines, lapping machines or spark erosion machines.


The OILMAC is installed directly on the housing of these machines as a space-saving measure or next to them and connected via a pipelien or extraction hose. The right way to configure this filter system is one of the most complex issues when working with cooling refrigerant emissions and must always be undertaken by an expert.
In general, cooling lubricant emissions in the machine hall can be reduced in three ways:
Prevent the origin of emulsion mists, oil mists and oil fumes
Capture and extraction of unpreventable aerosol mists and oil mists via an oil mist separator
Sufficient hall ventilation

Important for improving aerosol mist, oil smoke and -vapours is the choice of the right cooling lubricant in workpiece machining. Often too small an amount of cooling lubricant is used on the workpiece or the wrong cooling lubricant. Also make sure the processing machine and oil mist separator is serviced regularly. Warm, wetted workpieces should be stored in closed containers. Avoid storage in the open. The tool machine itself should be fully encapsulated where possible to prevent emissions from escaping.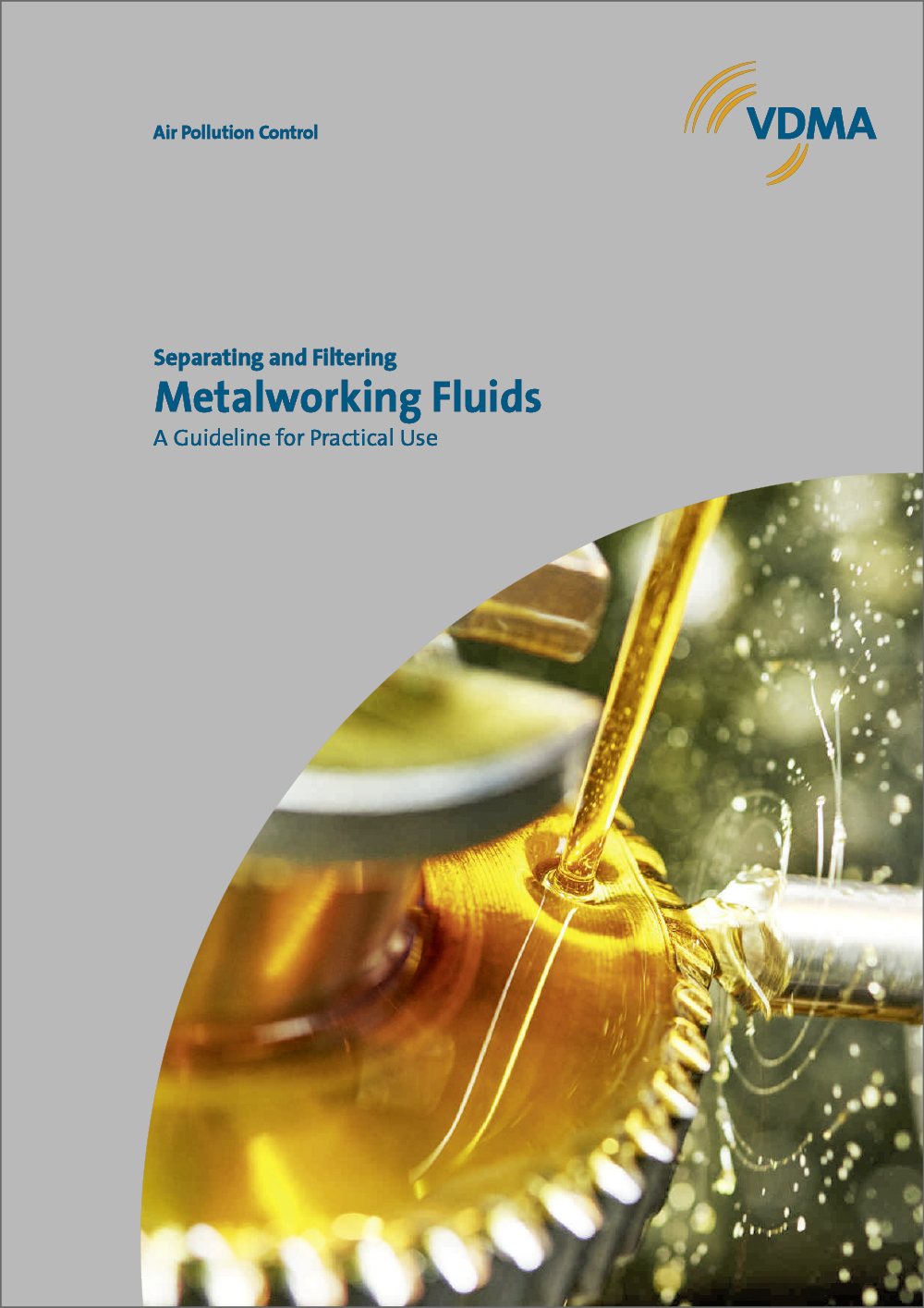 VDMA - METALWORKING FLUIDS FOR DOWNLOAD

Know-how for clean air at the work place.
In around 200,000 metal firms in Germany, metalworking fluids are in use - employees come into regular contact with substances potentially harmful to health. For this reason, the German Association of Machine and Installation Construction (VDMA) e.V., devised the "Metalworking Fluids - Air pollution control" guide.

Get a copy of this guide for a quick run-down in the complex material of air-borne metalworking fluids.
­
WE ARE HAPPY TO PROVIDE A PERSONAL CONSULTATION
We can adapt our exhaust installations to your needs. Tailor-made, modular and individual. Ask us!
Oil Mist Extraction
Eliminate oil mist and aerosols with local capture and effective filtration
Oil mist separators filter the exhaust fumes that are emitted during metalworking, particularly the emulsions that arise from the use of cooling lubricants. Separators draw gasses through a series of filters to produce a cleaner and safer production environment.
Lubricant is necessary to reduce the temperature for many machining processes, it vaporises on quickly rotating tools and hot surfaces. This oil mist pollutes workplace environments, but it is not just the machining process that causes lubricant evaporation: any contaminated surface, including clothing and flooring, can lead to the vaporization of oil mist.
Oil mist vaporization makes it important to filter air in any industrial workplace in order to ensure a healthy working environment.
Tested Quality
Minimise risk with certified mist eliminators
Our oil mist separators are certified (via IFA and TÜV tests) to meet the specific filtration and emulsion extraction needs of a wide range of industries.
Product Overview: Oil Mist Separators
Our emulsion mist eliminators are available in both compact and large-volume versions, which operate at a variety of power levels. Every model includes accessible filter housings to make filter maintenance easy. Compare each series described in more detail below to find out each which oil recirculation unit best suits your workspace.
The compact OLIMAC series is ideal for direct installation on processing machines to extract oil mist and other emulsions through local valves. The OLIMAC range minimizes exhaust fumes and eliminates oil mist through a three stage filter system. Maintaining these filters is particularly effortless, because the filter housings can be accessed without tools. This range is ideal for companies that require flexible oil mist separators, as intake power can be adjusted to four different levels.
Our freestanding Filter Tower FILTOWER are ideal for larger halls and welding practices for which local air inlets are impractical. Each FILTOWER separator can act as alternatives or supplements to direct exhaust air filtration units. Each filter tower system does not require additional installation of ventilation ducts, but acts as an independent exhaust inlet and oil outlet emulsion separation system. FILTOWER systems are also particularly low-maintenance, because their filter elements are automatically cleaned via jet pulse during and after oil mist intake. Browse our variety of FILTOWER models to find the most suitable filtration system for your company, with extra features including programmable timers and/or pressure loss management.