A complete one-stop solution.
From consultancy and planning to production and assembly, commissioning and plant maintenance: we are at your side.
An experienced, perfectly-balanced team of engineers, sales employees and fitters provide an optimal work flow. One of our competent project managers will take care of all the details during the entire duration of the project. This ensures a smooth workflow and minimum effort at your end.
Consultancy
Good consultancy brings you to the correct product.
At ESTA every project begins with a professional, extensive consultancy phase in order to find the best possible extraction solution for your use case. Our experienced specialists are happy to come and visit your site and can also undertake individual pollutant measurements for optimal design of the extraction system. Based on the latest 3D software, we devise flow simulations as the basis for determining the air volume that is actually required.
We are also happy to notify you about the latest ordinances, guidelines and legal limits. Our extraction systems are based on the latest developments in pollutant capturing- and separation technologies and are optimally destined for the production environment concerned. Our engineers and specialists also show you how to save on energy costs (for example by means of heat recovery) and will provide information about fire and explosion protection.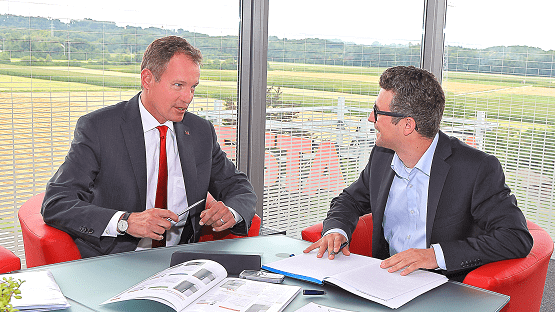 Engineering
Plant design based on your requirements.
A crucial factor for the effectiveness of an extraction system is that the design is aligned optimally to your needs. Based on ultra-modern software, our engineers produce detailed 3D drawings, such as e.g. Hall plans with integrated extraction systems or flow simulations. Technical process-related solutions are drawn up in our in-house technical department.
We also take care of interface management and take care of the smooth connection of the extraction system to the processing and production process.
Project management
Leave project management to the experts.
Production & pre-assembly
The installation components are manufactured in modules at our factory. This allows for quick, friction-less assembly on-site. These modules can be assembled quickly to form a complete installation system. With this procedure we can ensure that your production process is impaired as little as possible.
Assembly of the extraction system
Our in-house fitters carry out assembly of installation components and the complete installation including all support services precisely and exactly matching your expectations. We place great store in flow-optimised implementation with as little impairment to your production line as possible.
Installation
All plant components are adjusted precisely to each other. The integrated control unit ensures that the function of the installed plant components are optimally adapted to the particular operating state. The result is high efficiency and availability of the installation as a whole.
Commissioning & training
Commissioning is done by authorised service technicians. During the test runs, you can see for yourself that the components work correctly. Afterwards, on-site staff are given instruction and training.
Status monitoring
For installations for which a maximum availability is needed, we can carry out a regular measurement of relevant operating parameters if required thus reducing the risk of an unplanned downtime. We can do the installation check remotely from our factory in Senden by remote monitoring.
Documentation
After assembly has been completed, you will receive a detailed documentation on your extraction system including information about use and operation, data sheets and spare parts lists.
After Sales Service
We guarantee an efficient, quality-oriented work over the long term.

Long-term support
The ESTA service team will do everything to ensure that your extraction system constantly delivers optimal results. To do so, we offer an extensive after-sales service.
Maintenance service
ESTA provides support over the entire service life of your extraction system. Our service teams assure the availability of your ESTA installation as part of maintenance contracts thus preventing expensive unplanned downtimes.
Spare parts & accessories
We provide spare parts which are tailor-made exactly to your extraction system and which meet the highest quality demands. You can conveniently order them by email or phone.
Contact
LOOKING FOR A PERSONAL CONSULTATION?
We would like to discuss your individual use case in a personal discussion.