CENTRAL EXTRACTION UNITS
Individual plant concepts for your use case
CUSTOM-MADE SOLUTIONS FOR ANY INDUSTRY
Central extraction units can not only reduce cleaning-, energy- and maintenance costs but - more importantly- noticeably improve the working environment.
You can optimise the working processes using a central extraction unit. Production residues such as smoke, dust and vapour are reliably removed right away. Use the potential for time and cost savings. Otherwise production failures are possible due to contaminated machines. The central extraction unit assures frictionless production processes and clean working conditions for your employees.
ESTA extraction systems are suitable for extracting coarse and fine dust, vapour, smoke and dry materials. Thanks to the modular construction, ESTA can optimally adapt the suitable system (pipe system, filter unit and central vacuum generator) to your individual application-specific requirements.
The ESTA component system
With our component system we can implement installations for small and medium and also large air volumes. Our experienced specialists adapt the design of the installation exactly to your application and individual wishes. Later production-related installation expansion is easy due to the modular construction.
TESTED QUALITY
CERTIFIED PRODUCTS TO MINIMISE RISKS
Optionally, many dust extractors are also available in ATEX design. This makes them suitable for use in potentially-explosive areas (Zone 22). This means we are able to reduce risks to a minimum to offer you the greatest possible installation reliability.
Vacuum generator is very efficient
Low operating noise due to sound insulation and - where necessary - special sound dampening
Wear- and maintenance-free construction
Low operating costs thanks to cleanable filters and high energy efficiency
Modern switch cabinets in all variants
Complete service - from design via assembly to commissioning and maintenance
Heating and cooling register for pleasant temperatures
Comfortable tempered & clean air
When connecting a heating and cooling register to the pipeline system, the air supply can be comfortably tempered inside.
The register consists of heat exchangers, which are combined side by side and one behind the other to form an external unit. A cooling / heating medium such as cold or hot water flows through the tubes of the heat exchangers. This cools or heats the air flowing through the pipes and thus improves the indoor climate.
The registers are available for an air volume flow of 10,000 m³ / h to 40,000 m³ / h. The housing of the register is made of galvanized sheet steel (powder-coated) and is suitable for installation in spiral ducts in accordance with DIN EN 12237 and DIN EN 1506.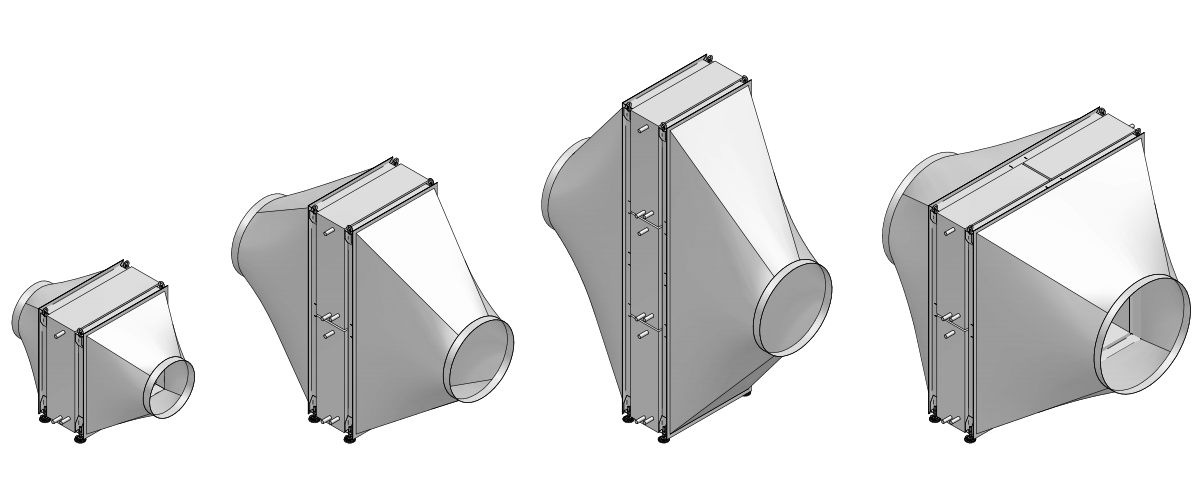 WE ARE HAPPY TO PROVIDE A PERSONAL CONSULTATION
We can adapt our exhaust installations to your needs. Tailor-made, modular and individual. Ask us!
Bespoke central extraction units for an ever-changing industry landscape
An ESTA central extraction unit facilitates the control of air quality and ventilation in the working environment. But that is not all, as an extraction unit can also reduce cleaning, energy and maintenance costs. These high-performance and cost-effective systems extract residues such as smoke, dust or vapours immediately, saving time and money, which can be spent elsewhere. Air pollution can be avoided and ventilation enhanced in a wide range of industrial settings and these modular units can be easily extended and adapted to meet the extraction challenges of the future.

Wide range of application-specific proven ventilation solutions
Through the use of the extensive ESTA component system, installations for small, medium and also large air volumes can be implemented. The system design can be adapted to exact application requirements and wishes.
The DUSTMAC series is configurable for any type of dust and provides central multi-location extraction. The type, volume, incidence and composition of dust determine the filters used. A suitable extract fan as well as pipe system can be integrated, and even connected to a ducting system, to ensure a dust-free workplace.
TDS/TDP side channel blowers generate a high negative pressure and are ideal for high-volume extraction. Their high suction force eases the capture of shavings, large smoke and dust volumes.
For the extraction of welding fumes, shavings and dust, an HDV high-pressure fan can be employed, while MDV medium pressure fans can be used as a fan or vacuum generator in extraction systems.
DKG rotary piston blowers work with extremely low-noise levels in applications where a high negative pressure is needed.
FZ series ESTA cyclonic filters excel in a wide range of industrial processes for separating a huge variety of dusts, shavings and fume gases.
Car washes, petrol stations and car dealerships can benefit from the installation of the CCCS 2.0 cost-effective car interior cleaning system. This compact, low-maintenance, weatherproof suction unit can be used outdoors to provide users with extensive cleaning advantages.
ESTA extraction booths are optimised for dust extraction and flow and can be used for noise dampening and fume and dust capture combined.
The latest edition to the ESTA component system is the WELDEX FE fume filter module. It is the perfect solution for welding fumes and oil mist and can be used outdoors.

Adaptable modular extraction systems to suit individual needs
The challenges of an ever-changing industry landscape can be overcome with a modular extraction system. Custom-built to suit individual application needs, a central extraction unit can be extended in line with current and future requirements. The high-quality workmanship of the ESTA range, ensures a long service life, which means high-performance extract ventilation without compromising budget limitations.