Cleaning systems for ESTA extraction solutions
Regardless of whether manual, motor-driven or fully-automatic – ESTA offers a range of different cleaning systems for ESTA extraction systems depending on product type and equipment model. Operating comfort and type of dust is also important when it comes to choosing the cleaning method.
Motor-driven bag filter cleaning
The lodged shavings and dust particles are removed from the bag filters attached to a frame using the electrical shaker motor. Using an eccentric, the motor makes the frame vibrate which causes the dirt to be shaken off and fall into the collection tank placed underneath.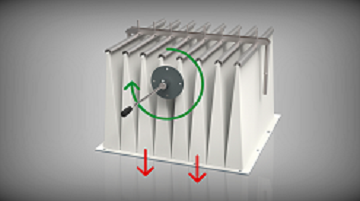 Manual brush cleaning
The creases on the cartridge filter are gently hit by the manually-moving brushes. This effectively removes coarse and granulated dusts from the filter. The brush carrier axis turns in the middle of the cartridge (raw-gas side) in two directions.
Jet-Pulse filter cleaning
In jet-pulse filter cleaning, the cartridge filters are cleaned automatically from the inside out using compressed air ports (pure-gas side) - individually or in series. Dust stuck to the outside of the cartridges are dislodged and fall into the collection tank. Jet-Pulse cleaning allows for filter cleaning during ongoing suction operation.
Manual cleaning with compressed air pistol
In quick and effective filter cleaning with the manual compressed air pistol, the filter fins are blown through from inside out. The smoke particles detach themselves from the filter material and fall into the collective dust trough of the filter housing.
Manual rotation cleaning
The manual rotation nozzle connected to a compressed air tank ensures that the filter fins are blown through evenly. Dirt particles are removed from them effectively.
Automatic cleaning
In automatic cleaning, filters are cleaned after the fan has come to a standstill. On equipment with an IFA test certificate, an acoustic signal sounds when the filter needs cleaning.
WE ARE HAPPY TO PROVIDE A PERSONAL CONSULTATION
We can adapt our exhaust installations to your needs. Tailor-made, modular and individual. Ask us!