This is ESTA
ESTA Apparatebau GmbH & Co. KG is one of the leading firms in the extraction technology area. Headquartered in Senden and Ulm, ESTA has been offering a broad range of innovative products and tailor-made solutions for industrial and commercial applications for over 45 years - for various industries and application areas.
The range of products includes industrial extractors, welding fume filters, hall ventilation systems, oil mist separators, odour filters, extraction tables, extraction blowers, extraction arms, and central extraction units as well as mobile and stationary dust extractors. The product range is rounded off by an extensive range of accessories for extraction technology. Purified air in the work place is not only a requirement of the German employers' liability insurance assurance in terms of protecting the health of employees, there is also evidence of it improving productivity.
ESTA sells its extensive range of equipment with its own branches and sales partners worldwide. For over 15 years, the firm has implemented a quality management system and is certified to ISO 9001 : 2015. ESTA also offers a comprehensive range of services making the company a reliable partner for pure air in the workplace worldwide.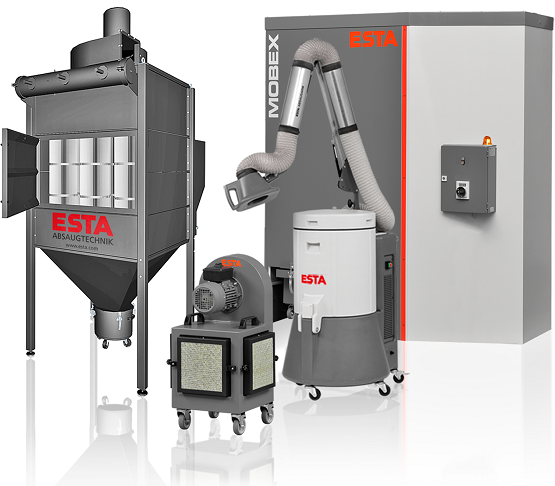 Structure
Organisational structure of ESTA Apparatebau GmbH & Co. KG gives information about the board of management, staff positions, segments and areas to the individual departments.