DIGITISATION: EXTRACTION SYSTEMS ON THE WAY TO INDUSTRY 4.0
With automation, digitisation has also found its way into industry and into the respective production processes. The term "digitisation" is therefore no longer a foreign word in industry. Today, entire production lines are already digitally controlled and monitored via programmable logic controllers (PLCs). These structures can now be used to take the next step - towards the digital factory ("technology factory"). The catchphrase "Industry 4.0" has emerged in German linguistic usage. This refers to networking and intelligent monitoring of all means of production.
THE DREAM OF THE DIGITAL FACTORY
On the one hand, machines can communicate with one another very easily via the networking of all units. On the other hand, all machine data can be stored and evaluated. The data obtained allows precise analysis and optimisation of the entire value chain. This has an enormous savings potential that needs to be exploited.
EXTRACTION SYSTEMS WITH "INDUSTRY 4.0" TECHNOLOGY
A customer uploads his technical drawing to the manufacturer's server. The offer is calculated and displayed directly based on this data. The customer confirms this, the data is loaded onto the milling machine, and the appropriate milling cutter is automatically clamped in. From now on, the customer knows exactly how long it will take to process the order and can monitor it online at any time. The process may have taken place within a few minutes up to this stage - without human intervention. Only now does a worker - as previously - put the right raw material into the machine, and the mill can start. The extraction system is adjusted exactly to the correct volume flow, thus saving energy. After manufacturing, the invoice and address label are printed out automatically and the package leaves the factory. At the same time, the customer receives the tracking code for the shipped package by e-mail.
During the operation of the systems, data is constantly collected and analysed. If the dust collection container is full, this will be reported directly by e-mail to the workshop foreman, so that it is emptied. If a filter change is due, this can also be reported in good time, meaning that only a very brief shutdown of the system is needed.
REMOTE MAINTENANCE, BIG DATA AND PREDICTIVE MAINTENANCE GENERATE CUSTOMER BENEFITS
Due to the enormous amount of collected data ("big data"), the operation of the extraction system can be traced and monitored down to the last detail. Statistical calculations can already highlight irregularities with this data before the system fails. This "early detection" is known in the jargon as "predictive maintenance". The advantage of this technology is obvious: the earlier an error is detected, the faster appropriate countermeasures - for example the ordering of spare parts - can be instituted.
Should a fault still occur during operation, a remote maintenance interface can be activated on the extraction system. Customer service connects directly to the extraction system and provides appropriate assistance. (Further information in the section "Remote maintenance at ESTA")
ESTA IN THE AGE OF INDUSTRY 4.0
DIGITAL CONTROL FOR EXTRACTION SYSTEMS: ESTA EASYCONTROL
ESTA provides a future-proof digital control system for its extraction systems with ESTA EasyControl. Thanks to a newly developed patented sensor technology, ESTA EasyControl can be used to integrate energy-efficient volume flow regulation into the extraction system. Using this Eco+ concept, the system will always work at the optimum operating point with minimal energy consumption.
ESTA INDUSTRY 4.0 EQUIPMENT PACKAGES
Furthermore, ESTA EasyControl already has an integrated digital interface that can be used to extend the control system. Thus, older existing systems can also be retrofitted with Industry 4.0 technology. Depending on the equipment package, systems with the desired functions can be selected (see graphic). This makes it possible to provide all known digital interfaces such as LAN, WLAN, UMTS and LTE. For machine networks ("M2M"), OPC / UA and MQTT will also be available in the near future.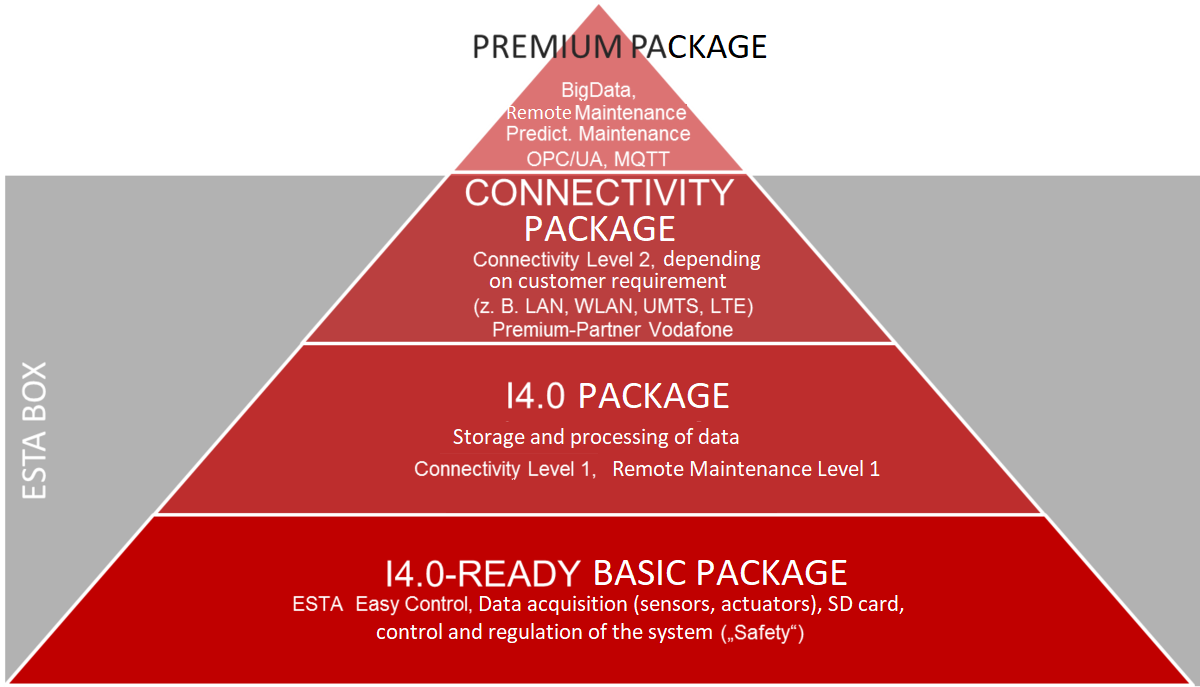 REMOTE MAINTENANCE FOR EXTRACTION SYSTEMS
ESTA offers the possibility of remote maintenance for extraction systems. Here ESTA has direct access to the customer's extraction system and can thus provide rapid help for maintenance and repair. This also means that fitters can be assisted during commissioning. In general, remote maintenance provides shorter response times for customer support and active assistance with problems.
There are various options for remote maintenance . You can choose connection via a WAN * or WLAN network at the customer's. The remote maintenance router is integrated via a DHCP * server or via a fixed IP address. Furthermore, a connection can be realised via the mobile network or a VPN access. On request, it is also possible to leave the customer full control over access, where the router has to be released by a key switch, for example. In the case of a mobile radio connection, it is additionally possible to choose between two connection options: it is either possible to constantly access the remote maintenance router or the router is activated only when needed. These remote maintenance accesses can be deployed worldwide. The customer's individual circumstances must be verified in order to select the appropriate type of router.
In addition, ESTA offers remote recording of machine data and alarm management. By having this data recorded and evaluated by ESTA, the performance of the extraction system can be monitored and any maintenance requirement can be detected early.
* WAN - Wide Area Network; DHCP - Dynamic Host Configuration Protocol (network configuration , assigned by a server); VPN - Virtual Private Network
FILTOWER 4.0 ROOM AND PRODUCTION WORKSHOP VENTILATION SYSTEM WITH INDUSTRY 4.0 TECHNOLOGY
ESTA's FILTOWER 4.0 room and production workshop ventilation system is the first extraction system on the market that saves up to 50 percent in energy during operation. The combination with ESTA's own control concept ESTA EasyControl, a frequency converter and the patent pending volumetric flow measurement is responsible for this. In addition, sensors in the raw and clean gas area permanently monitor the air quality. Thus, the drive power can be readjusted automatically and as needed. The integrated network and protocol function allows constant access to all information almost anywhere in the world via remote monitoring. This applies to both customers as well as to ESTA as system manufacturer, if the customer does not oppose this. This means that technical air parameters can be adjusted without costly service deployments if specific customer requirements arise.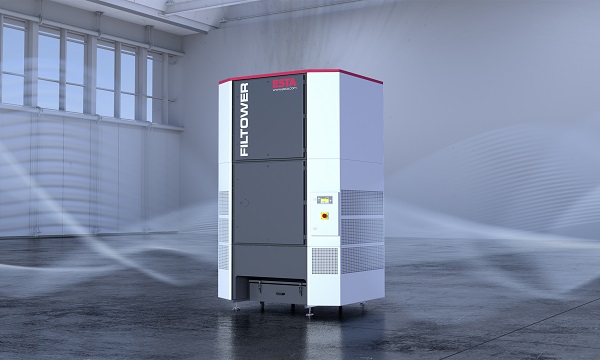 Typical wearing parts such as filters can be changed situationally in the context of measured values. A blanket replacement determined by operating hours is therefore no longer necessary. This significantly reduces operating costs for the customer.
Availability improves compared with the current technical state of the art, because the predictive maintenance approach reduces unforeseen downtime and increases manufacturing quality and planning security for customers
The service life of wearing parts such as filters and drives is extended.
Intelligent remote monitoring ensures lower maintenance and service costs.
The integrated sensor technology determines all the relevant operating data.
Remote access and monitoring of all operating data is possible worldwide thanks to the integrated network and protocol function.
The user can access all operating data.
The savings potential of the ESTA EasyControl control system, combined with frequency converter, is up to 50 % compared to competitor systems with conventional differential pressure control.
ESTA is systematically developing control and sensor technology and implementing it in further products, even in large-scale plants of more than 100 kW.
3 STEPS TO THE INDUSTRY 4.0 EXTRACTION SYSTEM
Step 1: The systematic physical examination of the extraction process makes it possible to establish innovative new measurement methods (volume flow measurement, dust measurement).
Step 2: The newly developed ESTA control concept ( EasyControl ) with sophisticated sensor technology regulates extraction systems energy and resource efficiently at their optimal operating point.
Step 3: This control concept is the basis for an holistic industry 4.0 concept, with which all Industry 4.0 enabled systems can be networked, controlled and monitored, bringing real customer benefits.
WE ARE HAPPY TO PROVIDE A PERSONAL CONSULTATION
We can adapt our exhaust installations to your needs. Tailor-made, modular and individual. Ask us!