HOW IS AN EXTRACTION SYSTEM INSTALLED AND WHICH ONE IS SUITABLE FOR MY APPLICATION?
Extraction systems are systems that remove harmful air pollutants. Different extraction systems are required depending on the application. As well as mobile and stationary dust extractors for numerous dust types, there are oil mist separators for oil mist and chip separators for chips, for example.
All extraction systems have one thing in common: they usually have the same structure. Find out about the detailed structure and function of an extraction system here.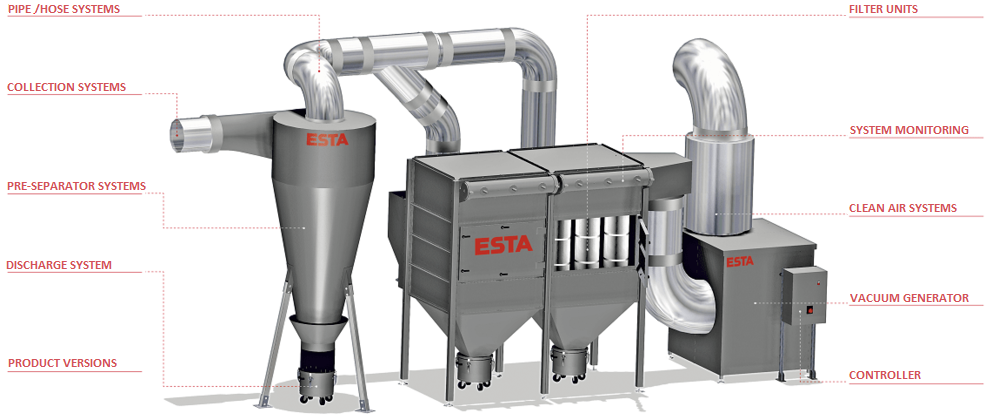 Constructing an extraction system.
COLLECTION
In order to be able to filter the medium, the emissions to be filtered must be collected optimally and efficiently. Extraction arms, hoods or funnels are suitable for this purpose.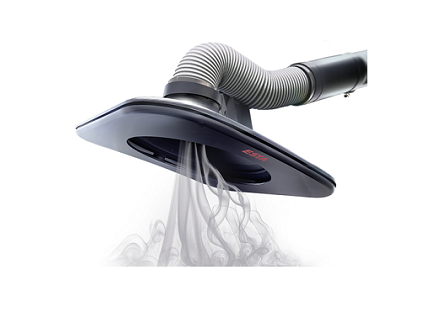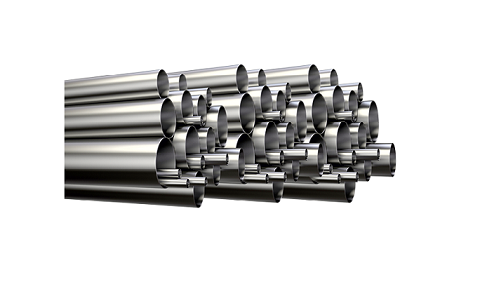 PIPE / HOSE SYSTEM
The various extraction points are connected to the extraction system by means of pipe or hose systems (folded spiral pipe, steel pipe).
PRE-SEPARATOR
Pre-separators can be integrated into the extraction system in many ways. Among other things, they can be used to relieve the filter unit in processes with large amounts of dust or chips or as an additional safety measure (e. g. in the case of flying sparks). Examples of pre-separators are impact separators, cyclone separators, spark separators and classifiers.
FILTER UNIT
The filtration of the extracted medium takes place at this station. The filtration can be carried out by a variety of filter systems and filter media, for example dry separator with filter cartridges,pocket filters,bag filters, etc. or wet separator with water as the filter medium.
FAN
The fan generates the required air volume flow and the negative pressure for the extraction of the media. It is designed according to the required operating point. Other vacuum generators are side channel compressors,radial blowers and rotary piston blowers.
CONTROLLER
The task of the controller is to control the engine, to monitor the system and to submit reports, as well as to regulate performance.
THE RIGHT EXTRACTION SYSTEM FOR EACH APPLICATION
In order to find the ideal extraction system for the respective application, a few questions must be clarified in advance.
Depending on the process, the pollutant and the material, the possibilities for achieving the optimal extraction result vary.
Below you will find an overview of all possible factors relevant for deciding on the right extraction system.
FACTORS FOR THE DESIGN OF AN EXTRACTION SYSTEM
Dusts
Welding fumes & soldering fumes
Oil mist & emulsion mist
Chips
Vapours & odours
Fibres
Other emissions
Normal steel (black steel)
Stainless steel
Light metals (aluminium, titanium etc.)
Plastics
Organic dusts (tea, cereals, flour etc.)
Etc.
Dry, oily
Pourable, sticky
Fibrous, agglomerating
Carcinogenic
Combustible, conductive, abrasive
Etc.
Flying sparks when welding
Flying sparks when grinding
Flying sparks when sawing
Etc.
Single point
More than one point
Production workshop extraction
How many extraction points are in operation simultaneously and therefore have to be extracted at the same time?
Direct connection to the processing machine (extraction nozzle)
Extraction hood
Extraction wall
Extraction booth
In the production workshop (directly next to the extraction points)
Outside the production workshop
In an adjoining room
Flexible place of deployment (mobile extraction system)
1-shift operation
2-shift operation
3-shift operation
Continuous operation (24/7)
Via a dry separator
Via a cyclone separator
Via a wet separator
Circulating air: The air is transported back into the workspace.
Exhaust air: The air is released outside.
50 litres per month
20 litres of dust per week
10 litres per hour
Etc.
Dust collection container at the extraction system (e. g. 100 litre dust collection container)
Continuous dust discharge via rotary feeder (big bag)
Etc.
Get in touch with us: Our sales staff will be happy to give you individual advice and will also find a suitable extraction solution for you.
Our extraction systems ensure the best possible separation in combination with maximum availability and minimum energy consumption. Thus, each system not only meets the current requirements and guidelines, but is also of future proof design.
WE ARE HAPPY TO PROVIDE A PERSONAL CONSULTATION
We can adapt our exhaust installations to your needs. Tailor-made, modular and individual. Ask us!