EXTRACTION ARMS
PINPOINT, EFFECTIVE CAPTURE OF SMOKE AND DUST
Wide range of extraction arms for your individual needs
ESTA extraction arms capture welding and soldering fumes, gases, vapours and dusts directly at source and can be connected to a central extraction unit via fans or a pipeline. Pneumatic springs ensure that the extraction arms can be brought easily into the required postion within their range. The external support construction ensures that the air volume is not impeded as a means of ensuring that effective extraction is possible.
Our extraction arms come fully-preassembled and are available with a range of different extraction hoods, hoses, mounting types, and in many nominal widths (50 mm to 200 mm) and ranges (1.5 m to 8.0 m).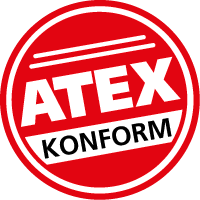 ATEX MODEL
The extraction arm is also available as an ATEX model.
You need the ATEX model to extract in explosion zones 1/21 and 2/22.
WE ARE HAPPY TO PROVIDE A PERSONAL CONSULTATION
We can adapt our exhaust installations to your needs. Tailor-made, modular and individual. Ask us!