SUPPLEMENTARY ROOM VENTILATION SYSTEM FOR SMALLER PRODUCTION AREAS
With the TowerBox®, ESTA offers a compact room ventilation system for welding fumes and airborne dusts. The device ensures a noticeable improvement in air quality - especially in smaller work areas. The TowerBox® can be placed flexibly and effectively complements existing at-source extraction systems. The air containing welding fumes is captured via the perforated pipe on the top of the room ventilation system and is directed to the dust class "M" filter cartridge, where it is filtered. The cleaned air is returned via an air grille outlet close to the floor (recirculation mode).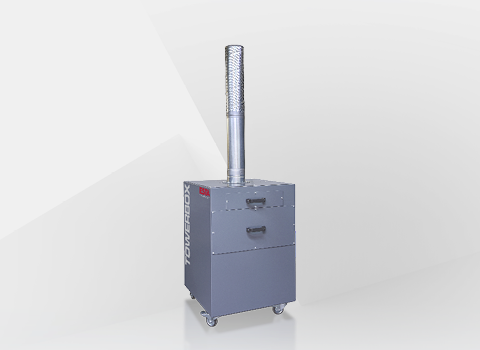 Gallery Air purifier TowerBox®
Efficient fumes collection to improve room air quality
Mobile use and suitable for continuous operation
Compact and handy design, also suitable for use in confined areas
Simple and dust-free disposal of the collected material through a drawer
Dust class M Filter cartridge
Quiet and energy-saving operation thanks to EC technology
Perforated tube on the top of the device for uncomplicated and optimal collection
Operating hours counter
Room air extraction for welding fumes and airborne dusts in industry and trade
Supplementary solution to at-source extraction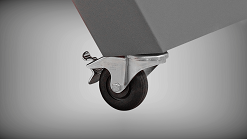 MOBILE SET-UP
Easy and flexible to use makes it ideal for frequently-changing use locations.
AIRBOX®-Family
TowerBox®
Max. airflow volume
m³/h
950
Connection diameter
mm
140
Connection voltage
V
230
Nominal frequency
kW
0.51
Filter area
m²
13.57
Number of filter elements
units
3
Activated carbon volume
l
-
Number of activated carbon catridges
units
-
Dimensions (L/W/H)
mm
692 x 660 x 959*** / 692 x 660 x 1973****
Weight
kg
approx. 100
Sound pressure level
dB(A)
53.0***** (70.5)
* without tube
** with tube
*** with silencer package
| Product | Order No. |
| --- | --- |
| TowerBox® | 55504 |
CONTACT air purifier TowerBox®
WE ARE HAPPY TO PROVIDE A PERSONAL CONSULTATION
We can adapt our exhaust installations to your needs. Tailor-made, modular and individual. Ask us!