DUSTOVAC
MOBILE HIGH-VACUUM DUST EXTRACTOR FOR PRECISE EXTRACTION
POWERFUL AND QUIET HIGH VACUUM DUST EXTRACTOR.
The high-vacuum dust extractor DUSTOVAC is suitable for precise extraction of dust from handheld power tools. The mobile dust extractor is suitable for almost all types of dust. Thanks to its high negative pressure, which is generated by a maintenance-free side channel compressor, the DUSTOVAC can extract in parallel on several handheld power tools. Its high performance ensures that the mobile device can also be used without problems in multi-shift operation. The cleanable permanent filter cartridges keep operating costs low. The filter housing is patented. The tilting mechanism makes it easy to dispose of the collected material. The DUSTOVAC is also extremely quiet in operation.
Application DUSTOVAC
Single and multi-station extraction in industry and trade
Free-flowing dusts
Dry chips
Sawing, cutting, separating

Machining, milling

Transferring, filling, mixing

Sanding, polishing
Concrete dust
CFK / GFK dusts
Colour pigments
Metal chips, metal dusts
Plastic chips, plastic dusts
Mineral dusts
Stone dust
Mobile set-up
Easy and flexible to use makes it ideal for frequently-changing use locations.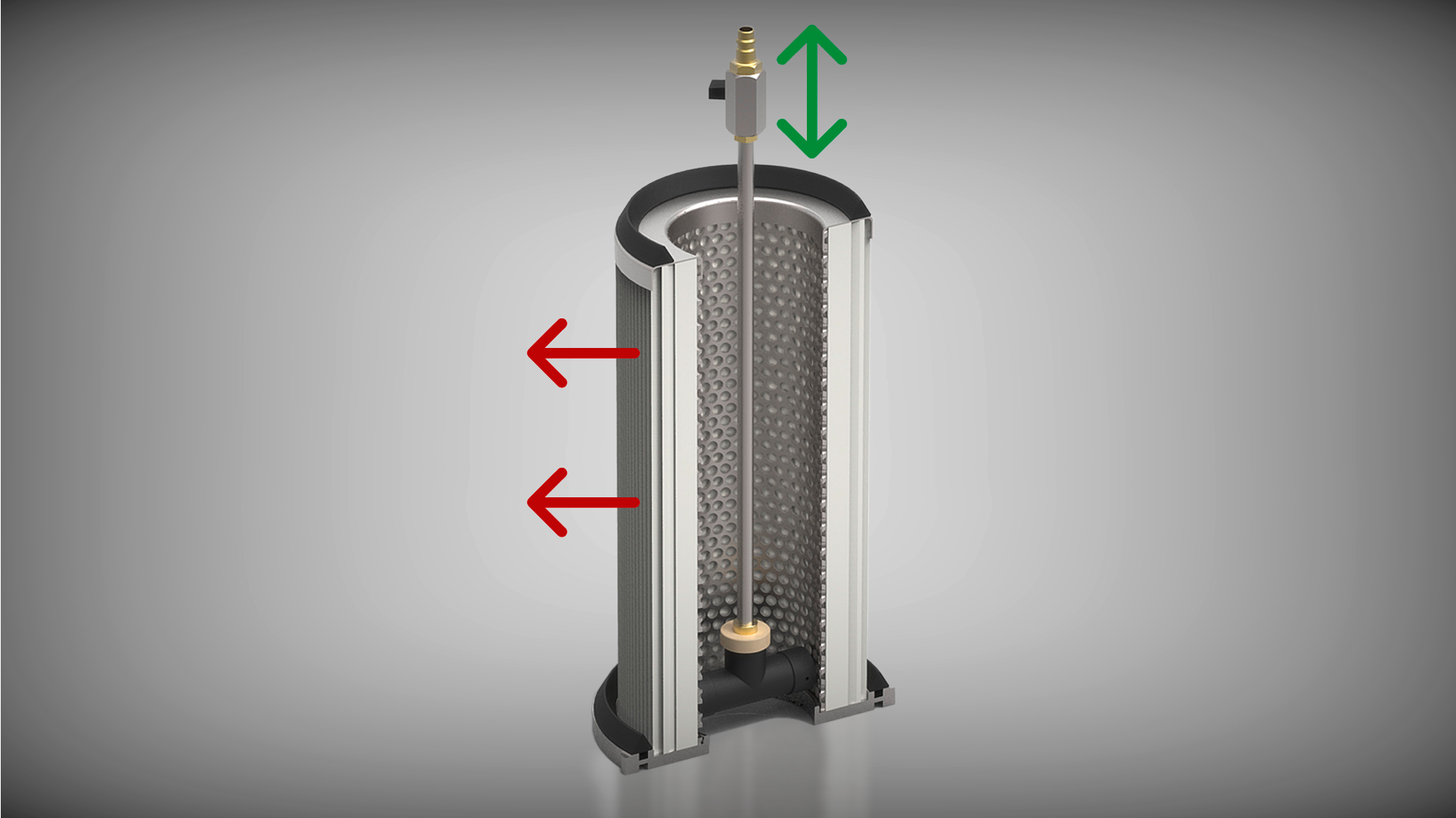 MANUAL ROTARY FILTER CLEANING
The filter blades are blown through evenly thanks to a rotary nozzle connected to the compressed air tank.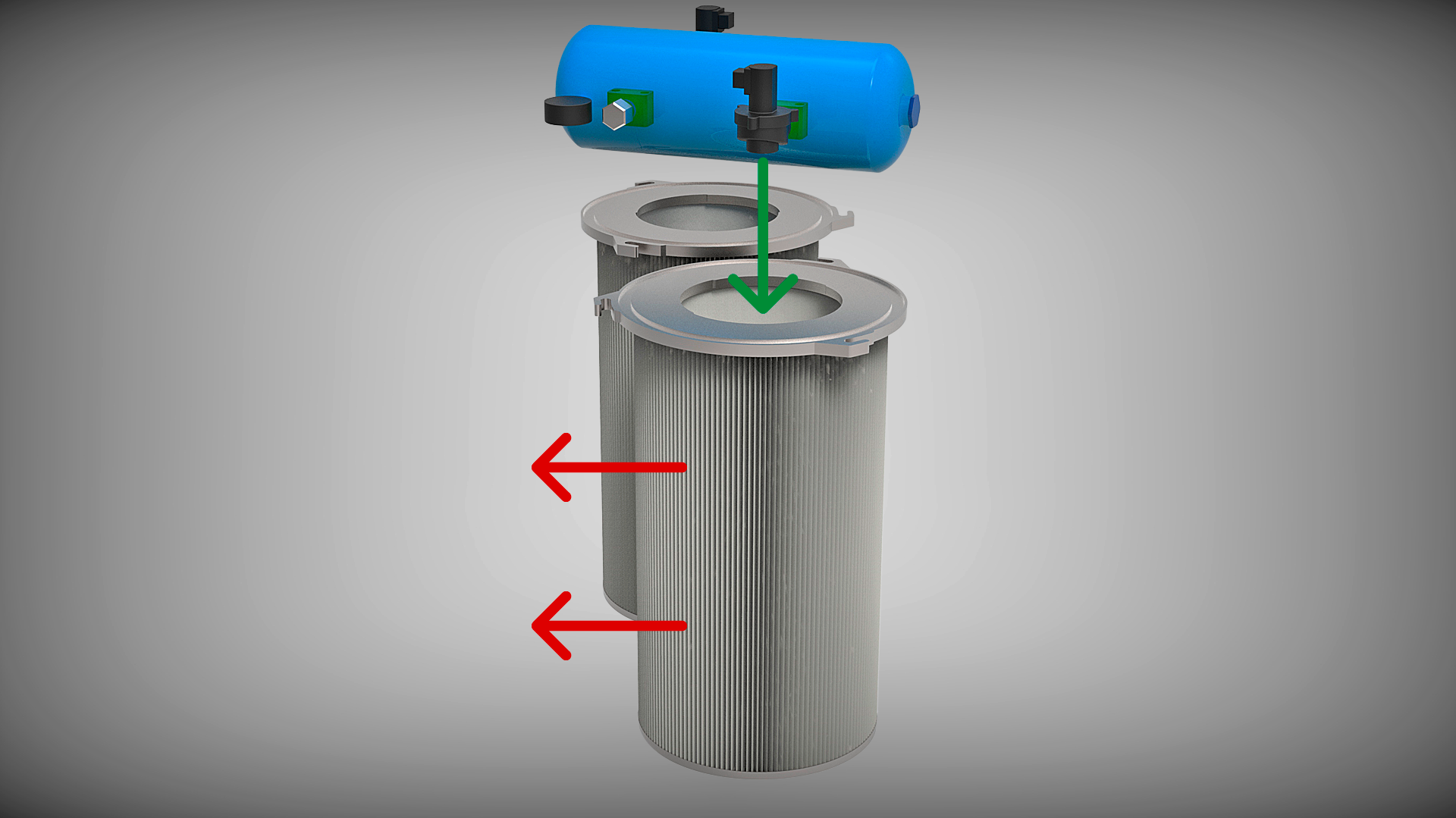 Jet-Pulse filter cleaning
Jet-Pulse filter cleaning cleans the filter cartridges individually automatically during and after suction.
High suction power for precise extraction from handheld power tools
Suitable for nearly all types of dust
Can be used for multi-shift operation
Low operating costs thanks to cleanable filter cartridges
Low operating noise
Patented tiltable filter housing for easy dust disposal
Dust collection container with 200 litres volume
Two filter cleaning methods: manual and jet cleaning
Cleanable permanent filter cartridges (dust class M)
DUSTOVAC
5.5
7.5
13.0
Max. air volume flow
m³/h
480
850
1,100
Intake diameter
mm
70
100
125
Max. negative pressure
Pa
24.500
25.000
22.000
Intake voltage
V
400
400
400
Drive power
kW
5.5
7.5
13.0
Filter surface
m²
9.6
9.6
9.6
Dimensions (L/W/H)
mm
1,830 x 782 x 2,040
1,830 x 782 x 2,040
1,830 x 782 x 2,040
Weight
kg
230
334
390
Sound emission
dB(A)
68
77
79
| DUSTOVAC | 5.5 | 7.5 | 13.0 |
| --- | --- | --- | --- |
| Manual rotary filter cleaning | 83.109 | 83.103 | 83.104 |
| Jet-Pulse filter cleaning | 83.112 | 83.107 | 83.108 |
WE ARE HAPPY TO PROVIDE A PERSONAL CONSULTATION
We can adapt our exhaust installations to your needs. Tailor-made, modular and individual. Ask us!