AIRBOX®
Secure the AIRBOX® Starter-Kit with important information about our new welding fume filter now.
Welding fume filter AIRBOX®
The AIRBOX® is ESTA's new compact unit for welding fume extraction. The mobile welding fume filter is a dependable companion for metalworkers and offers a flexible range of application at attractive first time and beginning users price level.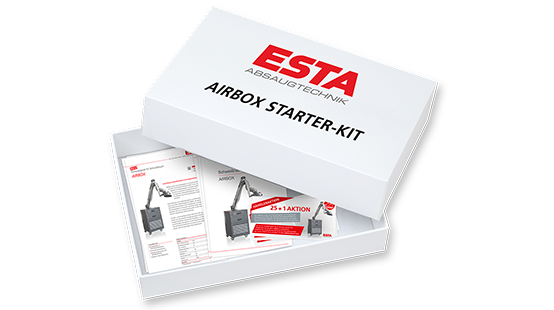 AIRBOX® Starter-Kit - EXCLUSIVELY FOR DEALERS
With the sales launch of our AIRBOX® welding fume filter, we will provide you first hand with relevant product information. By downloading our Airbox® Starter-Kit you have access to data sheets, product flyers and the exclusive dealer promotion "25+1" (Buy 25 / Get 1 FREE).
Fill out the form below and secure your AIRBOX® Starter-Kit now.
Request your AIROBOX® Starter-Kit now!
AIRBOX Starter-Kit - Exclusive for dealers
Would you like an AIRBOX Starter-Kit? Just fill out the adjacent contact form and you will receive the requested documents by mail within a few days.